3#Radioactive Iodine (I-131) Dispersion Simulation, 22 Months After #Fukushima Nuclear Accident
SUNDAY, JANUARY 13, 201
EXSKF
For some unknown reason, NHK decided to air a documentary on iodine-131 dispersion in the days right after the start of the Fukushima I Nuclear Power Plant accident in March 2011. In it, there was a simulation map created by researchers who carefully pieced together information without the government funding. It was a map of estimated thyroid dose equivalent exposure of I-131 for 5-year-olds.
The highest exposure is shown at above 200 millisieverts (thyroid dose equivalent for 5-year-olds).
(TV screenshot by @study2007, from Twitter)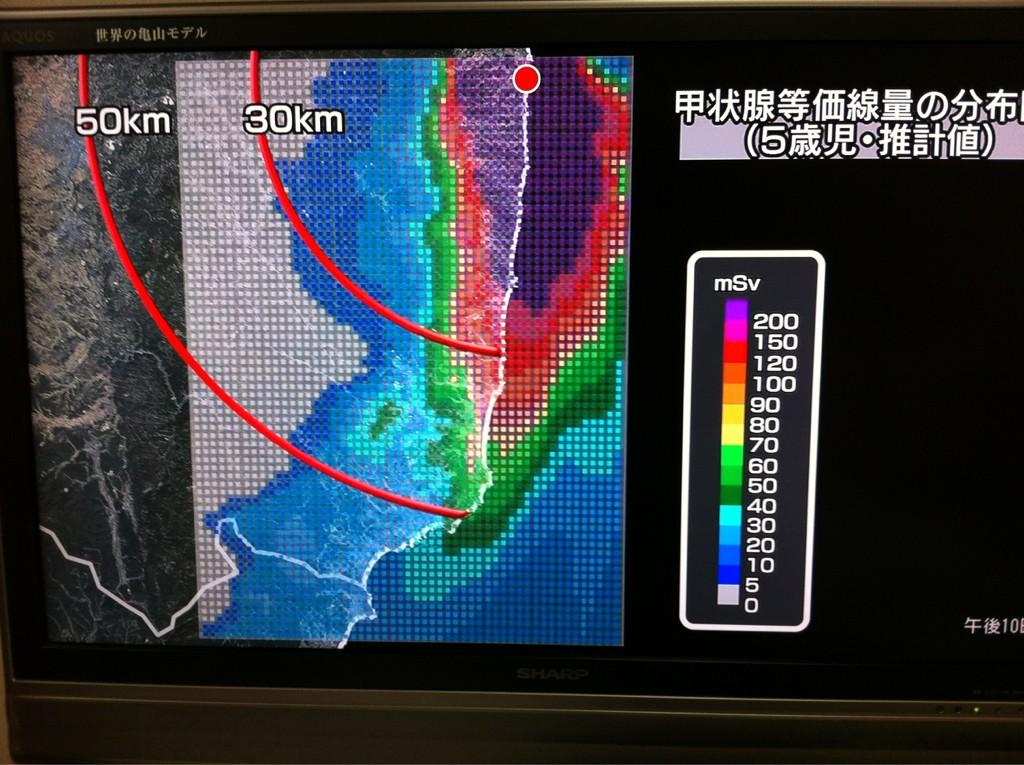 This is the first map I've ever seen that has been made by the Japanese, plotting the thyroid dose. 
What's interesting is why the dispersion of iodine-131 is still an estimate and simulation. As NHK tells it, the government ministry in charge of measuring radiation, Ministry of Education, actively intervened and prohibited the officials or researchers from doing the actual measurement of radioactive iodine in the air from March 14 to March 17, 2011.
WHY? Because the explosion of the Reactor 3 building at Fukushima I Nuclear Power Plant would endanger the officials doing the measurement outdoors. The officials dutifully followed the order. They chose not to collect probably the most critical data of the accident, and they didn't bother to tell the residents either, who were out and about with no information.
That's if you can believe NHK.
I wonder why they created the above map as dose equivalent for 5-year-olds, instead of 1-year-olds, like France's IRSN did. My guess is that the numbers would then be too high for viewers' comfort.
NHK's documentary (in Japanese) can be still seen here (part 1) and here (part 2), until NHK notices and takes them down.
http://ex-skf.blogspot.co.uk/2013/01/radioactive-iodine-i-131-dispersion.html
2 Comments »
Hi Sean,
Simulation for 5 years old is one of the reasons to downplay the danger. But also I think aim of this program is to encourage Fukushima citizens to be much more corporative to health survey that has been unpopular because Dr. Yamashita is in charge of it. He says up to 100mSv/y is fine and gave misleading information to citizens that lead to lots of people unnecessary had being exposed to high dose of radiation in March and April. Lots of money is involved in this survey…. Prof. Tokonami seems once a hero but now is working for nuclear power group…. It will take some time but I will write an article about this program.

Comment by Mia June | January 15, 2013 |

thank you Mia, i look forward to your article with anticipation.. thanks for clarifying the situation..
peace

Comment by arclight2011 | January 15, 2013 |
Categories

Pages

Recommended websites